Dripper & Inject Mold
XDC- Flexible Soft Pipe
Ⅰ.Product technology parameters
Specification

Ф75mm

Ф90mm

Ф110mm

Weight /Roll

14.9kg

17.1kg

20.4kg

Tensile value

Horizontal 2216 N / Vertical 2022N

Compressive value

5-6

4-5

3-4

Meters/Roll

100 Meters

100 Meters

100 Meters
Ⅱ.Product characteristics
※ Strong wear resistance
※ Multi-layer composite braid 100% PE material, recyclable, high environmental protection
※ The hole spacing can be customized according to the actual installation requirements of customers
※ The product is flexible and light in construction
※ Service life 3~5 years
※ The adhesive method using hot melt adhesive has high strength
※ The products are resistant to high temperature and sun exposure.
Ⅲ.Comparative Product
| | |
| --- | --- |
| XINDACHENG | OTHERS |
| The coating n inner 100% PE can be recycle | The coating is TPU cannot be recycled |
| The interior is double-layer composite braid | The interior is single-layer composite |
| The material is soft and easy to lay | The material is hard and not easy to lay |
| High cost performance | High price |
Product Advantage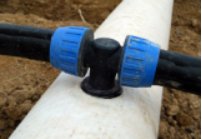 XinDaCheng flexible pipe can ensure the overall construction convenience of irrigation system, the integrity and uniformity of the dropper system, and the flexibility of operation and construction, which is difficult to achieve the state of ordinary hard pipes. Flexible pipe is strong , durable and stable , can withstand the harsh environment, with the original laying and installation,can help the customer save 15%~30% of labor costs, save time, greatly improve work efficiency. In addition, the unique welded joint improves the ease of installation while ensuring sufficient robustness at the interface.
※ Convenient assembly

1, The overall welding design ensures a safer connection with the branch pipe and a stable leak-proof performance
2, Screw interface design, easy to operate when assembling accessories,No glue reinforcement
※ Construction adaptability
1, Good wear resistance, can be towed at will in the face of harsh terrain
2, When not pressurized, not afraid to step on or be hit
3, Low expansion rate, pipe smooth, zero axial elongation
4,Soft and light, easy to wind and unwind, saving time and effort
Flexible pipe VS. Other Mainline Pipe Options
| | | | |
| --- | --- | --- | --- |
| FEATURE | XDC Flexible Pipe | Normal layflat Hose | PE/PVC Pipe |
| PLIABILITY | ✔ | ✔ | - |
| WELDED OUTLETS | ✔ | - | - |
| LIGHT-WEIGHT | ✔ | - | - |
| DURABILITY | ✔ | - | ✔ |
| DURATION | ✔ | ✔ | - |
| ANTI-LEAKAGE | ✔ | - | - |