PET/PP Strap Production Line
PET/PP Monofilament production line
Technical Parameter:

Material properties

PET

PP

size

0.1-2.5mm

0.1-3.0mm

Extruder

XDC-75

100kg/hr

80 kg/hr

XDC-90

160 kg/hr

120 kg/hr

XDC-110

300 kg/hr

200 kg/hr
Products description:
PET/PP Monofilament production line,suitable for the production of raw material pellets or PET bottle flakes recycled materials.can be made into flat or cylindrical monofilament.

Extruder:
Single screw extrusion is used for PET/PP Monofilament and other plastic production. The programmable pressure control system controls the screw speed to keep the extrusion pressure stable.
Continuous backflush screen changer:
This screen changer is suitable for the production of 100% recycled materials, which can effectively ensure the purity of the raw materials. The screen is automatically flushed without stopping, and it is hydraulically controlled. The continuous action of the two filter columns ensures continuous production.
Melt pump:
The high-temperature melt pump maintains a uniform output to the drawing die. Through accurate pressure measurement and microcomputer processing, the extrusion speed is controlled to ensure a uniform and orderly pressure and stable supply of materials.
Extrusion Die head:
Special design, so that there are more uniform thread holes, to achieve higher output; through the pressure sensor, detection and control of the extrusion process.
Water cooling tank:The slideway design is easy to move, maintain and repair. At the same time, it is equipped with a water temperature control system and a water circulation system to ensure the stability and uniformity of water temperature.
The First haul-off unit(slow):
Chrome-plated steel roller 600mm,speed 0-30m/min adjustable;
Hot stretch water tank:After hot water stretching, stainless steel rollers, the water temperature control system enters the air drying system .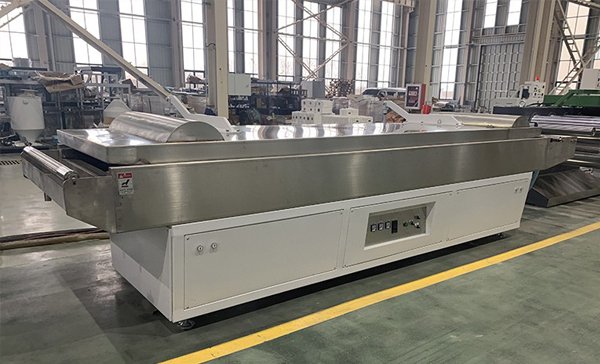 The Second haul-off(fast):
Chrome-plated steel roller 600mm, adjustable speed 0-150m/min;
Shaping oven:Size 0.6x4m long, heated by electric heater, equipped with dual-circulation fan;
The Third haul-off unit:Chrome-plated steel roller 600mm, adjustable speed 0-150m/min;
Corrugated device (optional):
Orbital design, easy to move when not in use, frequency conversion control, adjustable speed 0-150m/min ;
Double station winder:With meter recording system, the set number of meters is reached, and the automatic cutting is completed.