Drip Irrigation Pipe Production Line
drip irrigation pipe extrusion line
Technical parameter:
Item

Pipe diameter

Pipe thickness

Production speed

Distance of dripper

XDC-DGG 300A

Φ12-16-20mm

0.12-0.6mm

0.2-0.9mm

(optional)

≤300m/min

100、150、200、300、400、500-1500mm
| | |
| --- | --- |
| Distance 100mm | Line Speed 150m/min |
| Distance 200mm | Line Speed 300m/min |
| Distance 300mm | Line Speed 300m/min |
Product description:

"ZEANON" is an independent brand developed by Qingdao Xindacheng together with European well-known drip line. Zeanon products cover all aspects of the drip irrigation field, including water-saving irrigation technology & machinery, engineering design, drip products and drip irrigation pipe extrusion line. It is also called drip irrigation pipe extrusion line, drip irrigation pipe production line, drip irrigation pipe machine.
1. Dripper feeder device: one sets. dripper feeding speed: 1800pcs/min.
2. Have dripper buffer device, make sure non-stop machinery even if happen bad quality dripper block on feeder.
3. Extruder: AC or DC drive.
4. Extruder die head & calibrating: Germany technology, thickness adjustable.
5. Configuration: One-button automatic pipe-holding dripper insert device.
6. Irrigation pipe accumulator: equipped with the most advanced European parallel accumulator device.
7. Automatica drilling device: 2 units. speed: 2000times/min.
8. Configure online automatic imaging analysis and monitoring punching system: monitor the punching status, realize the error automatic alarm function, and ensure the product punching rate.
9. Line speed: 300m/min, it is the fastest production efficiency in the world.
* dripper space 100mm, speed: 150m/min.
* dripper space 200mm, speed: 300m/min.
* dripper space 300mm, speed: 300m/min.
Feature 1: Zeanon irrigation pipe weights less than 7g/m, Reduce 30% material which will largely save cost.

Feature 2:
• Configured with advanced dripper dripper buffer and insertion unite (Europe technology).
• Insert 1500-1800 pieces of dripper per minute.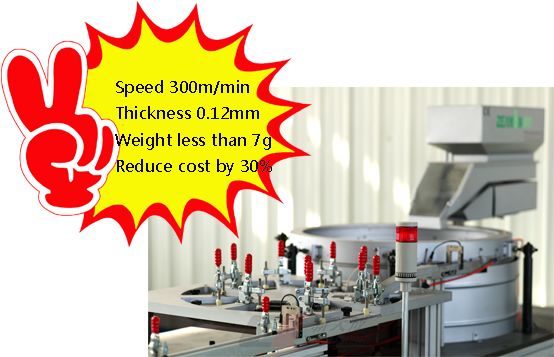 Feature 3:
• Europe import dripper, weights only 0.1g/pcs(China exclusive agent)
• Qingdao Xindacheng import from Europe, China exclusive agent.
• High efficient inner irrigation pipe dripper adopted high efficient injection mold technology.
• All produced in Europe, to make sure of the quality.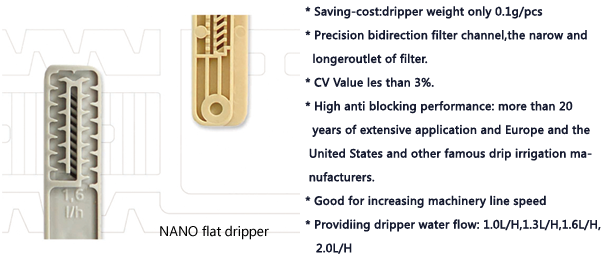 Feature 4:
• Double Auto Punching Unit, Punching device fixed with online monitor & picture indentify system, store the punching system.
• Auto alarm for wrong punching, it is controlled by PLC system.
• Tracking and adjust the punching system in time.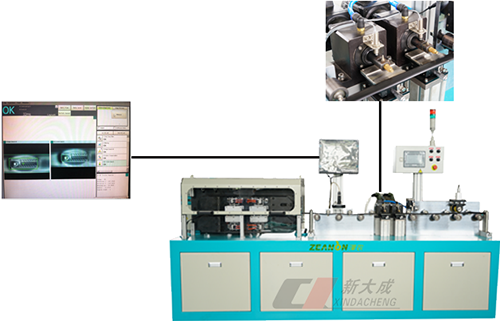 Feature 5:
• Auto winder + Accumulator device
• It is drive by servo motor. Automatically wind the dripper irrigation pipe.
• Controlled by PLC system.