Drip Irrigation Pipe Production Line
High speed round dripper pipe production line
Technical parameter:
| | | | | | |
| --- | --- | --- | --- | --- | --- |
| Item | Pipe diameter | Pipe thickness | Production speed | Distance of dripper | Number of punched holes |
| High speed | Φ12-16-20mm | 0.5-1.5mm | 120-150m/min | 100-1000mm | 2、4 holes |
Product description:

Feature 1:
• Two layer Co-extrusion Technology & Mark colour line
• Adopt High-Efficient and Energy-saving extruder, stable plasticization of raw materials and large output.
• According to the user's choice, the double-layer co-extrusion extrusion system is used to improve the utilization rate of recycled materials, reduce the cost and ensure the service life of the drip irrigation pipe.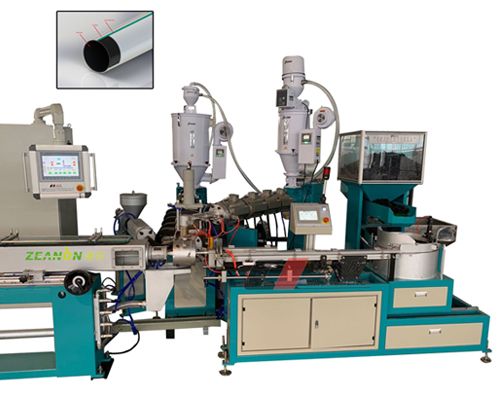 Feature 2:

• High-speed dripper screening and insertion system.
• Be used for identification and inserting Φ12-16-20mm round dripper.
• Inserting speed: 450-500pcs/min.
• With servo driving very precisely controlled dripper insertion system.
• Dripper screening, inserting, space are operated by PLC system.
Feature 3: Be used for identification and inserting round dripper, PC dripper of all length(optional).

Feature 4:
• Automatic punching technology.
• Speed:450-500 pcs drilling/min.
• Used for driling double drip hole, four drip hole.
• Controlled by serco motor, to achieve precision drilling.
• Provide customer with remote support service.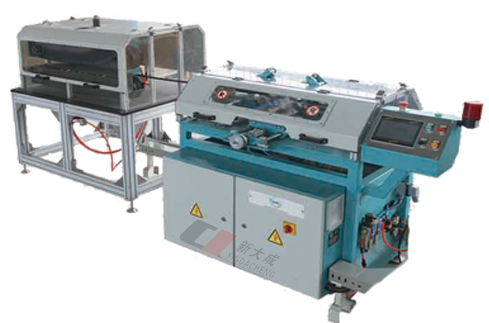 Feature 5:
• Full automatic winder and strap pack, metering functionality.
• For pipe coiling, cutting, roll change, meter to realize full automation.
• Online automatic strap packing unit(optional).
• Machinery speed: 100m/min.
• If with online strap unit, machinery speed 120m/min.