Board/Sheet Production line
N95 automatic mask machine
The parameters of Product:
Model: zs8870
Machine size: 9500 * 1500mm * 2200mm (including conveyor)
Driving mode: servo motor, stepping motor
Control panel: human machine interface (touch screen) and button,
PLC is Siemens brand.
Voltage: 220V/ Frequency: 50 \ 60Hz
Cylinder brand: SMC brand
Air pressure: 6kg / c㎡
Output: 30-35 pcs/ min
Ultrasonic power: 1500W * 4 sets
Ultrasonic frequency: 15 / 20KHz
Operating weight: 1800kg
I. Introduction:
Automatic N95 one time folding mask machine: also called automatic mask forming machine.
The product is a full-automatic machine used in the production line of folding mask. It uses ultrasonic technology to weld 3-5 layers of PP non-woven fabric, melt blown fabric, activated carbon and filter materials, non-woven fabric, ear band, printing, folding, edge sealing and rolling. It can process 3M 9001, 9002 and other folding masks. According to the different raw materials used, the masks produced can meet different standards such as ffp1, FFP2, N95, etc. there is no need for manual operation in the whole process, and they are all produced by mechanization, and they are finished products.
II.Equipment features:
1. Ear belt direction and style can be equipped according to customer requirements
2. High output, can produce 1-5 layers of masks according to customer requirements
3. Adjustable folding position of mask
4. Computer program control, photoelectric detection device, high stability, low failure rate
5. The whole machine is made of aluminum alloy structure, beautiful, solid and rust free. Product configuration and features: the machine is highly automated, No need to carry out manual operation later, through PLC programming control, it can achieve mask embossing, ear band welding, folding, opening, trimming, nose beam strip built-in, printing, one-time forming, special production process to ensure that the lines are clear and do not deform in production, can minimize material waste, and effectively ensure the quality of the mask produced.
6.Workflow: ultrasonic welding → nose beam feeding → ear belt welding → non-woven fabric folding → ultrasonic welding → cutting → conveyor belt loading Finished mask → stacking of finished products.
Machine structure: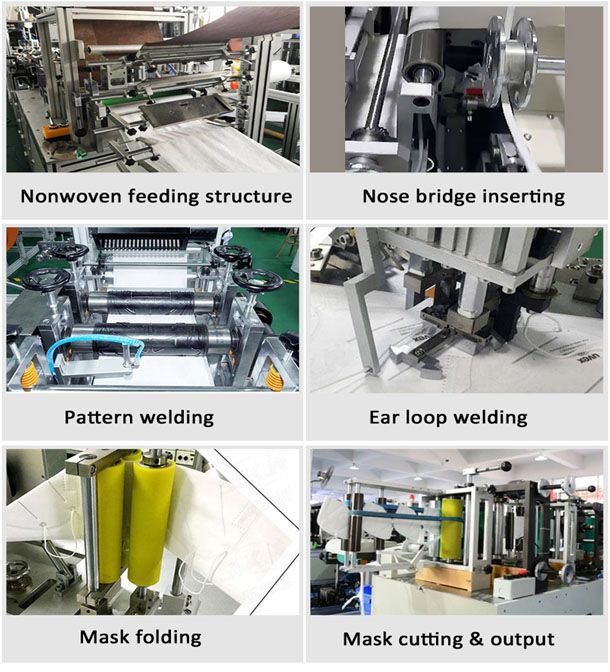 Medical grade mask samples: