Pipe Production Line
PE pipe production line
‍Technical parameter:
| | | | |
| --- | --- | --- | --- |
| Type | Pipe Spec(mm) | Extruder | Max.output(kg/h) |
| XDC-HDPE63 | φ16-φ63 | SJ-45/33 | 200 |
| XDC-HDPE160 | φ63-φ160 | SJ-60/30 | 300 |
| XDC-HDPE250 | φ75-φ250 | SJ-75/33 | 400 |
| XDC-HDPE500 | φ160-φ500 | SJ-90/33 | 600 |
| XDC-HDPE630 | φ315-φ630 | SJ-120/33 | 1000 |
| XDC-HDPE800 | φ450-φ800 | SJ-120/38 | 1200 |
| XDC-HDPE1200 | φ710-φ1200 | SJ-150/33 | 1500 |
Product description:

Xindacheng Plastic Machinery Company depends on design production experience of many years, join together the domestic and international actual circumstance, developed full-automatic production line which from extruder including all automation units and peripherals, whole pipe production line realizes automatic control from charging to finished product.
The tube sizing:
1. Sizing sleeve with the entrance water curtain is applicable to the HDPE, LDPE and PP etc..
2. On the front end of butterfly type sizing sleeve carrying entrance water curtain there is a closed inside room, which is applicable to the small tube extrusion specially.

Mould:
1. Standard series: 10mm – 1600mm spiral allotment type or skep types flow divide body.
2. The best design of the low melting temperature causing small tube internal stress and smooth inside and outward appearance.
3. High flexibility is applicable to all polyolefin material multi-layer co-extrusion form.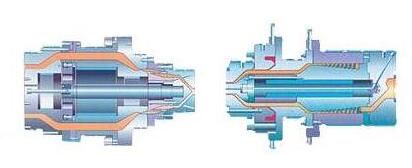 The vacuum sizing water tank:
1. The water pump of high power and spraying head of special design bring high efficient spraying cooling.
2. On the section of sizing sleeve establish dense and intensive spraying heads.
3. The percolation unit with the bypass pipeline improved the stability of the equipments and reduce maintenance (pipe-ine and spray head is blocked due to impurity).
4. Have the high and low water level control levels.
5. Three-dimensional adjusting.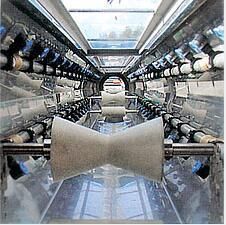 Tractor machine:

1. Changing frequency speed adjusting system guarantee synchronous hauling off.
2. By proportion valve and gas pressure control to regulate precisely contact pressure.
3. By the central motor drives all bedrails to attain highly synchronous result.
4. The automatic tube wall thickness increases and the length measuring device may be chosen.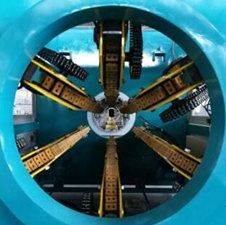 Sawing machine:
1. Blade type machine.
2. The planet type incising machine.
3. The circle cut type incising machine.
4. Have the set dimension and automatic cut function.
5. Following cut and complete synchronous.
6. Low noise and high protection design.
7. Vivid and dependable roller type moves.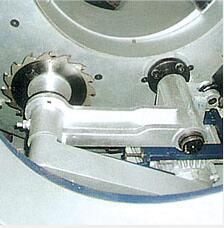 Extruder:

1. PLC or temperature gauge control.
2. High extrusion capacity, low melt temperature.
3. Special screw design insure the high-efficiency and high yield.
4. Bevel gear design of high hardness and low noise brings dependable performance with long service life.
5. Adoption direct current speed regulation, the frequency variable speed adjusting and the electromagnetism speed.